 B. B. French Ltd is a large antiques and collectables shop located in Sanson, New Zealand just a few kilometers from Bulls. This shop is occasionally closed at other times during Winter months. So, if you are planning a special visit, it is best to call ahead or check their website below.
What's Inside:
B.B French Ltd. has an interior design store feel with a range of antique furniture.  You will also find a wide range of china, pottery, ceramics, glass, jewellery, copper, pewter, kitchenware and some very interesting country items.
Location Tips:
B.B French Ltd. is strategically located at the crossroads where SH 1 meets SH 3 in Sanson. You can't miss it no matter which direction you are travelling in.
Payment options: Cash, credit, debit, EFT-POS.
Website: www.bbfrenchantiques.co.nz
Parking:
Off street parking is available on the Palmerston North side of the shop and street parking is also available.
Last Visited: June 2019
BB French Antiques - Sanson, New Zealand
63 Dundas Road
State Hwy 3
Sanson


Tel: 06 329 3467
Email: bbfrench@xtra.co.nz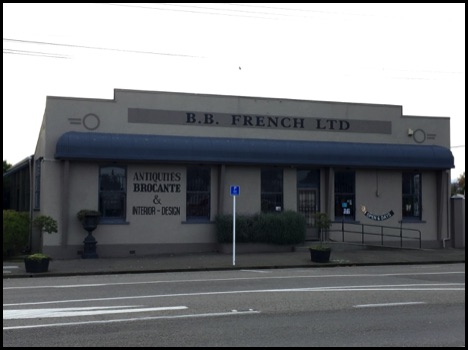 Wed-Mon 10:00-4:00
Tues Closed